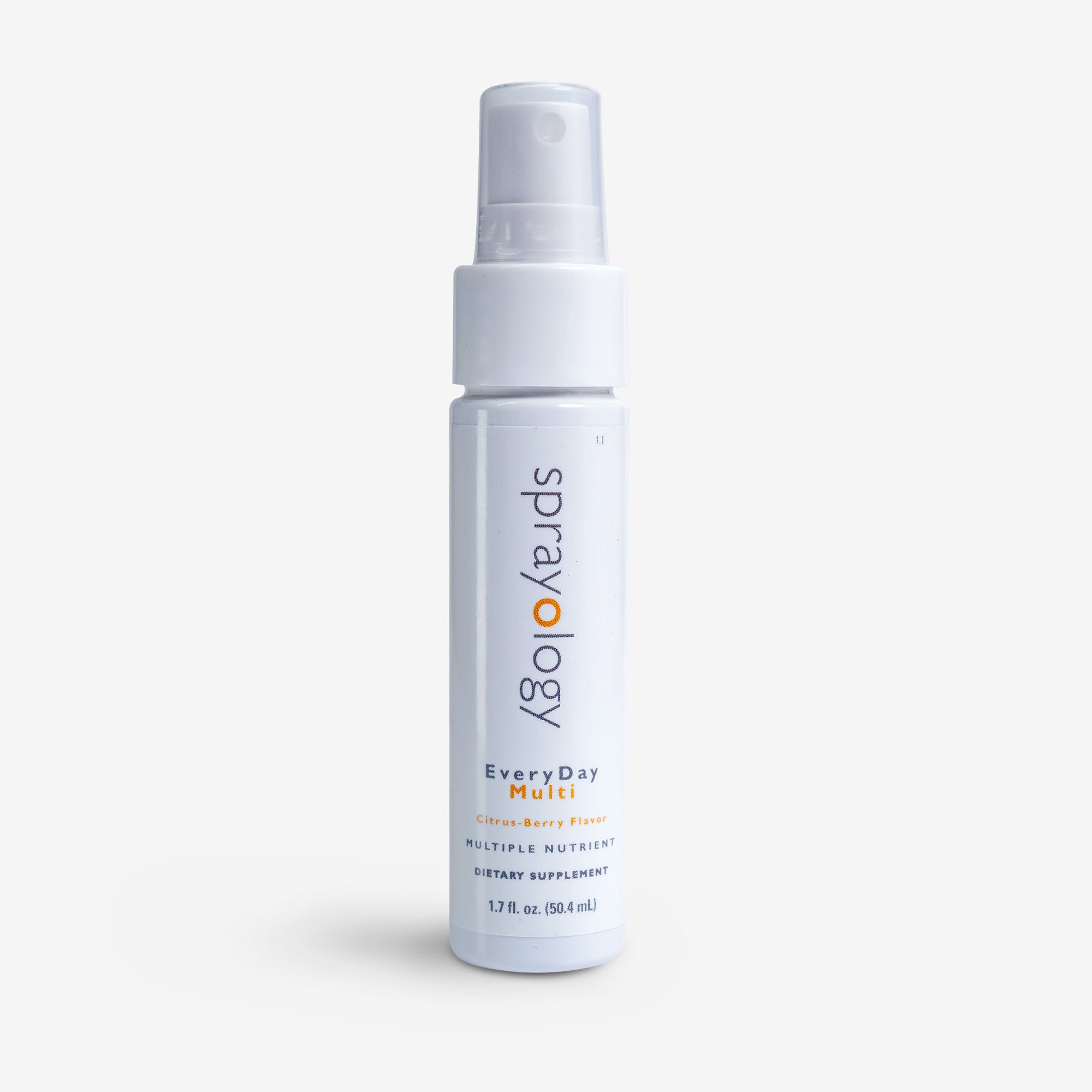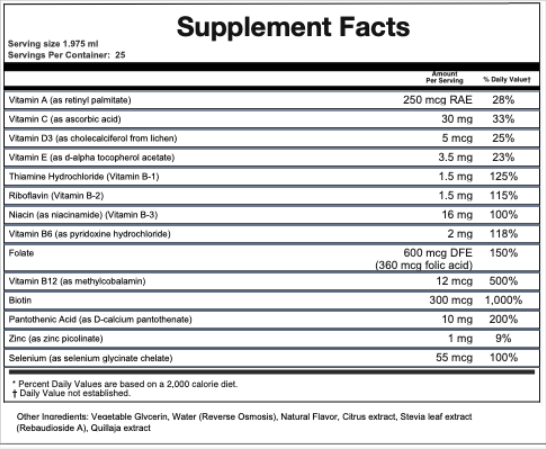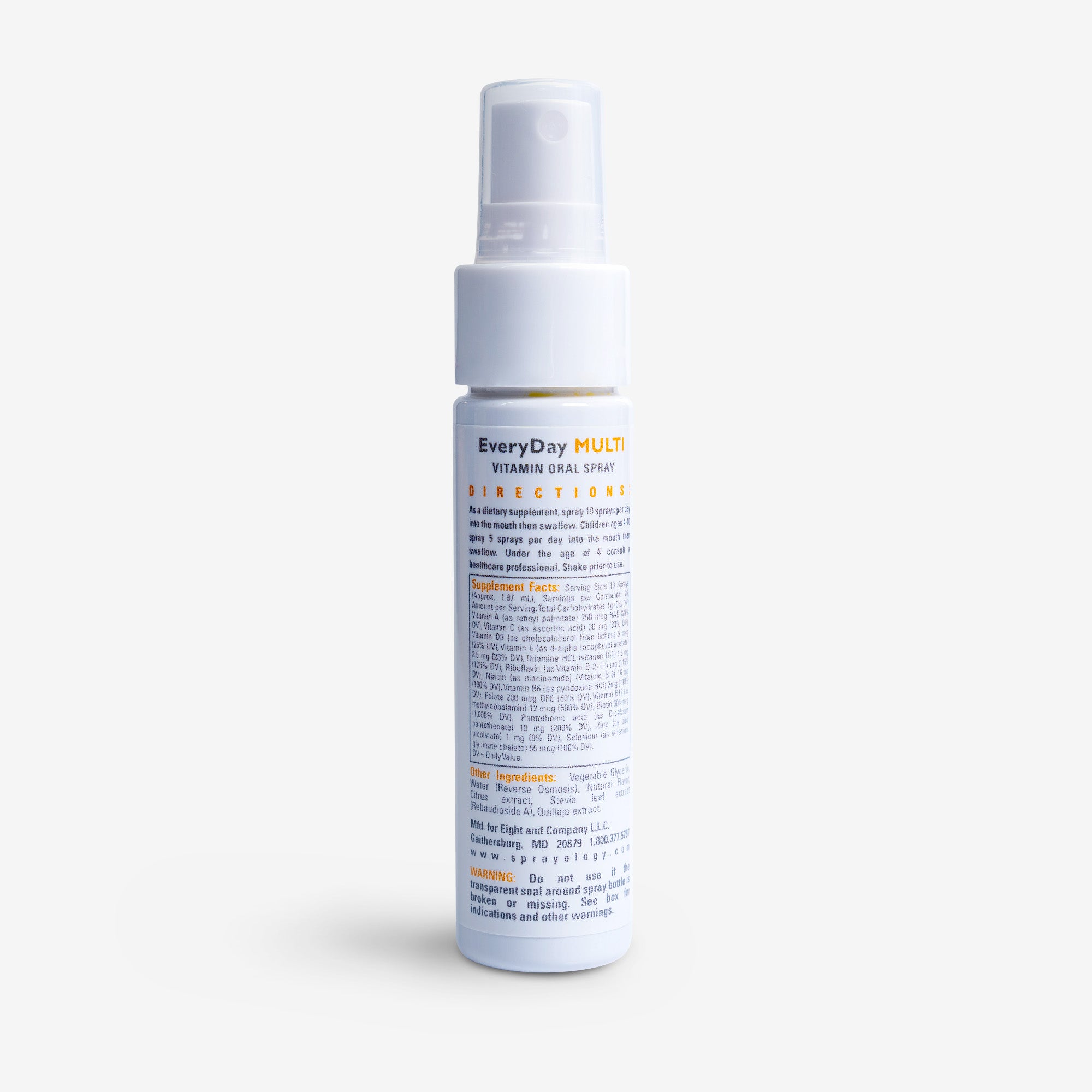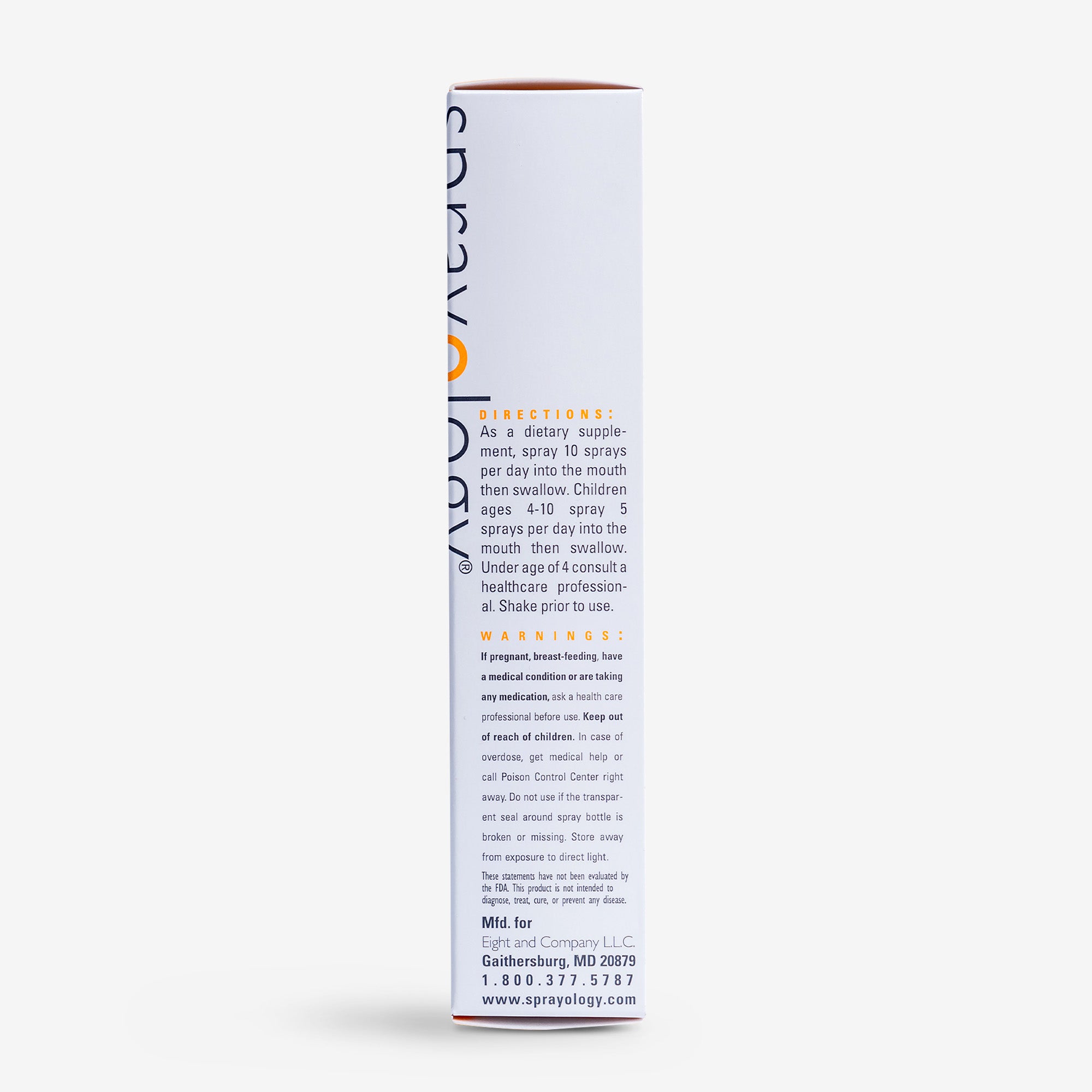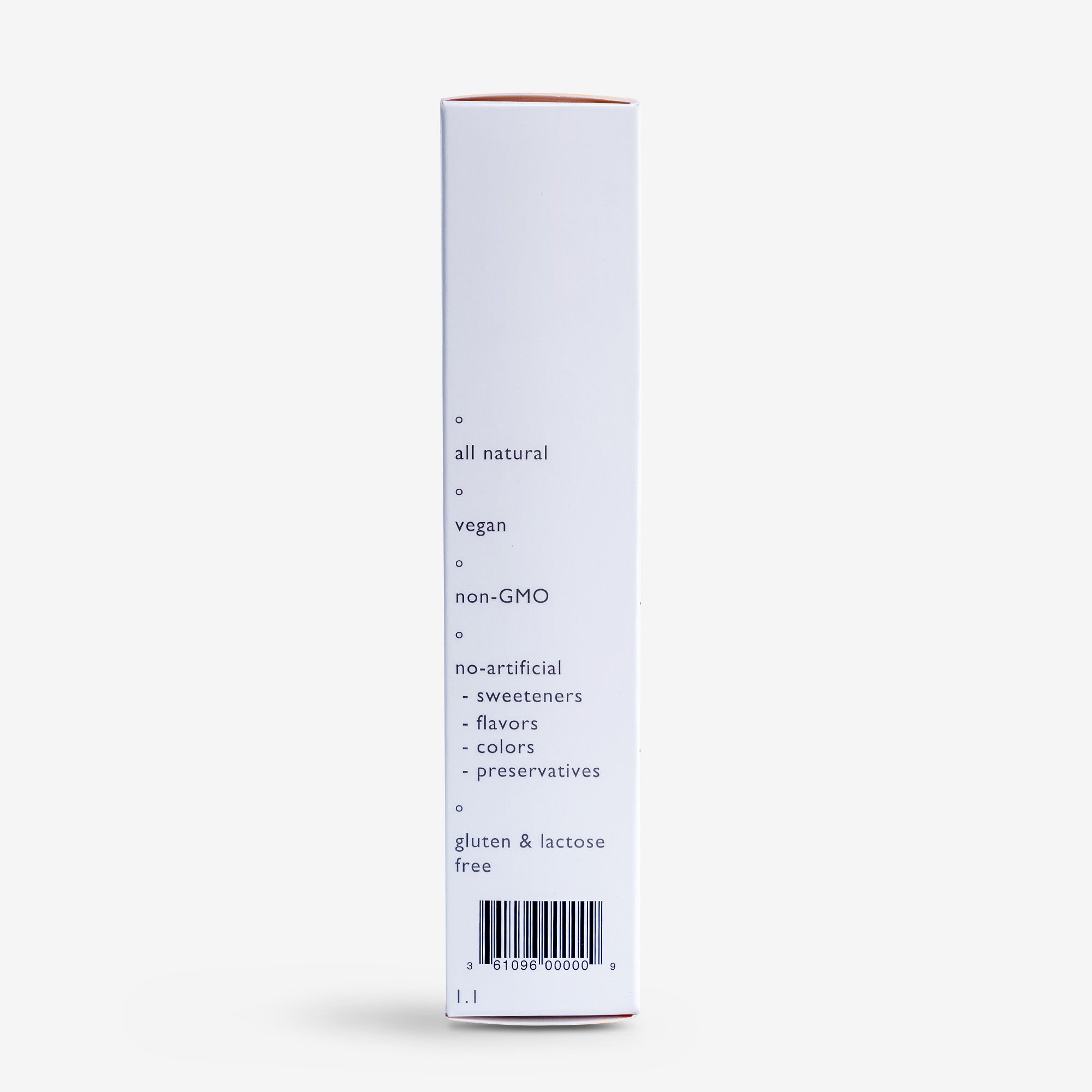 Description
Ingredients
Directions
The nutrients in this formula have been shown to be beneficial for:
overall body ad heart health
immune support
skin and eye health
metabolism support
energy production
brain health
healthy blood cell production
Recommended for: Men, women and children (ages 4 and older) who want a great tasting, high-quality, affordable, non-GMO spray vitamin. No pills to swallow and no stomach upset!
Supplement Facts

Adults and Children Over 4

Per Serving Size of 10 Sprays per day

% US RDA

Vitamin A (as Retinyl Palmitate)
250 mcg
28%
Vitamin C (as abscorbic acid)
30 mcg
33%
Vitamin D3 (as cholecalciferol from lichen

5 mcg
25%
Vitamin E (as d-alpha tocopherol acetate)

3.5 mg

23%
Thiamin  Hydrochloride (vitamin B-1)

1.5 mg
125%
Riboflavin (Vitamin B-2)
1.5 mg
115%
Niacin (as niacinamide) (vitamin B-3)

16 mg
100%
Vitamin B6 (as pyridoxine hydrochloride)
2 mg
118%
Folate

600 mcg DFE
150%
Vitamin B12 (as methylcobalamin, )
12 mcg
500%
Biotin
300 mcg
1,000%
Pantothenic acid (as D-calcium pantothenate)
10 mg

200%
| | | |
| --- | --- | --- |
| Zinc (as  zinc picolinate) | 1 mg | 9% |
| | | |
| --- | --- | --- |
| Selenium (as selenium glycinate chelate) | 55 mcg | 100% |
Other Ingredients: Vegetable glycerine, Water (Reverse Osmosis), Natural Flavor, Citrus Acid,  Stevia Leaf Extract (Rebaudioside A), Quillaja Extract.

DIRECTIONS
Adults and children over age 10: 10 sprays per day into the mouth prior to swallowing (5 sprays in the morning and 5 sprays in the afternoon).
B vitamins often increase energy so do not take in the evening prior to bed.
Children ages 4-10: 5 sprays a day into the mouth prior to swallowing.
Shake prior to use.
Under the age of 4: Please consult your doctor to determine the right dose for your child.
Pregnant or lactating women often require more nutrients. Please contact your doctor to determine how many sprays to take per day to meet your daily needs.
If pregnant or nursing a baby, consult a health care professional before using. Keep out of the reach of children. Do not use if transparent seal around the spray bottle is broken or missing.
Why spray?
Sprayology has been helping people feel and look better, naturally, for over 20 years. We make it easy to incorporate natural products into your daily routine–just spray in your mouth and go!
Oral sprays are 3x more absorbent than pills, giving you more effective results faster without the upset stomach!
All our products are manufactured and tested in the U.S, and backed by our guarantee.
Fast shipping
Sprayology takes pride in providing excellent service. We aim to ship all orders placed Sunday-Thursday within 24 hours.
Order tracking
If after 3 weeks of regular use you do not experience the formula benefits as described on the package, please contact us.
Get in touch
We are here for you! We are located in MD, so EST. By phone 240-224-7866 or info@ sprayology.com.