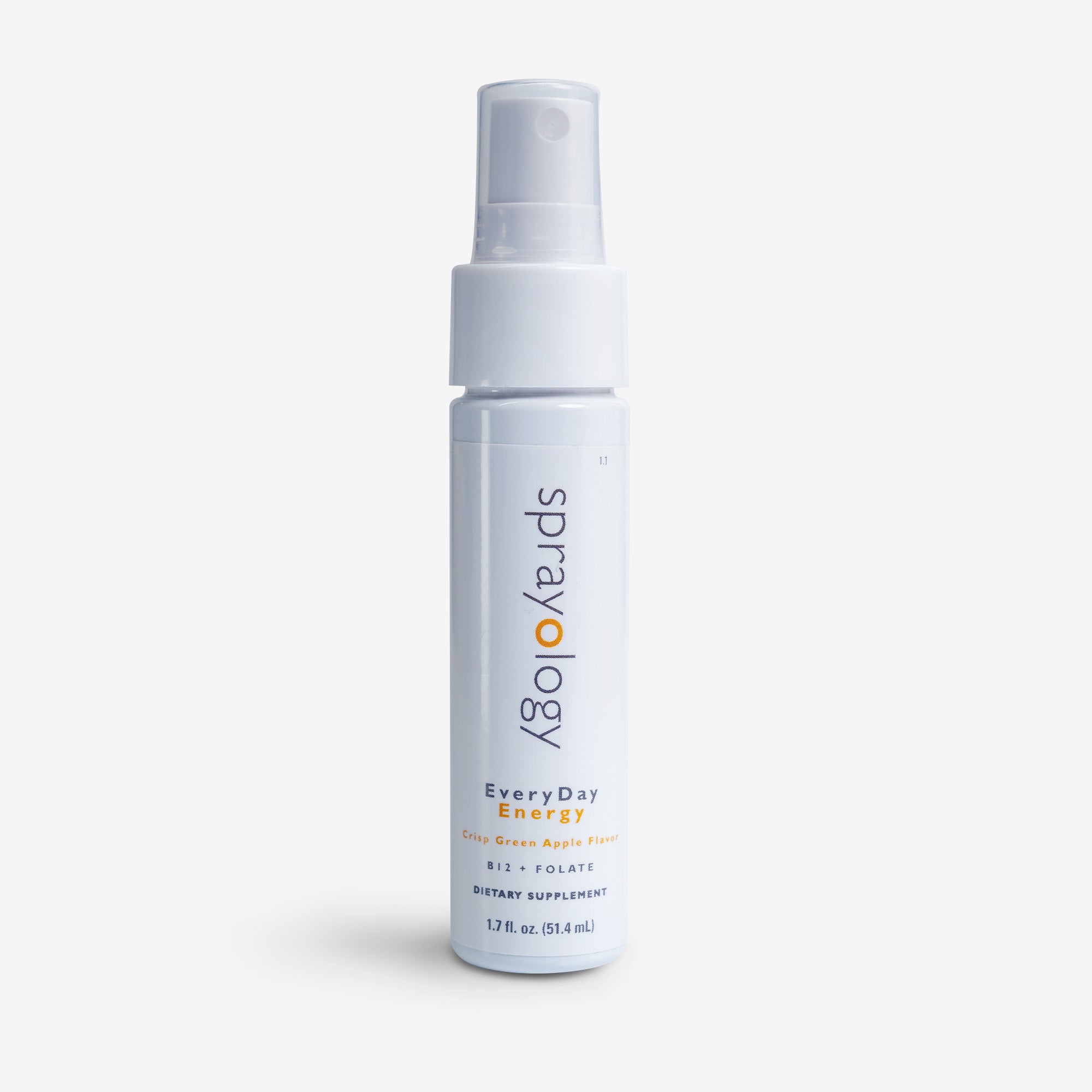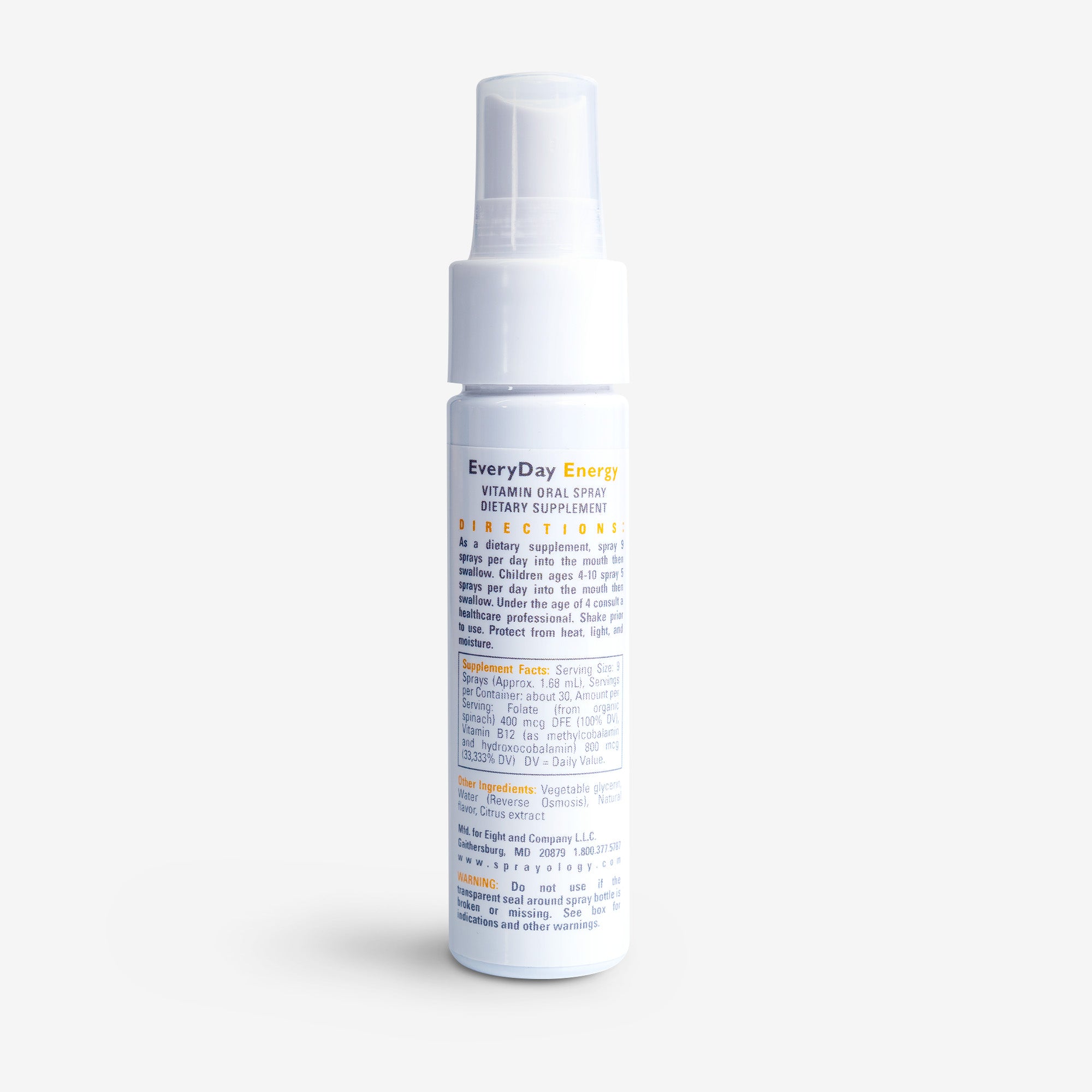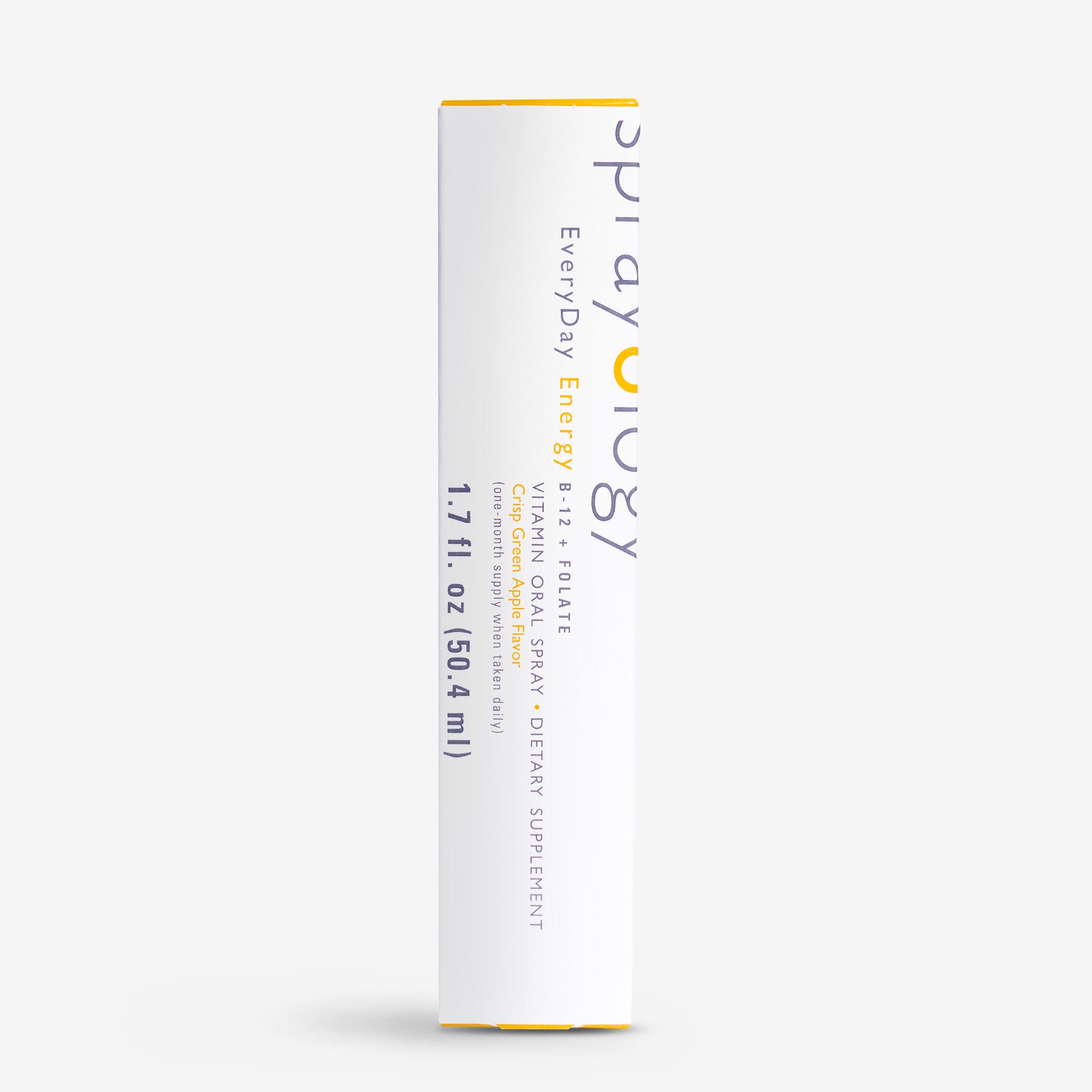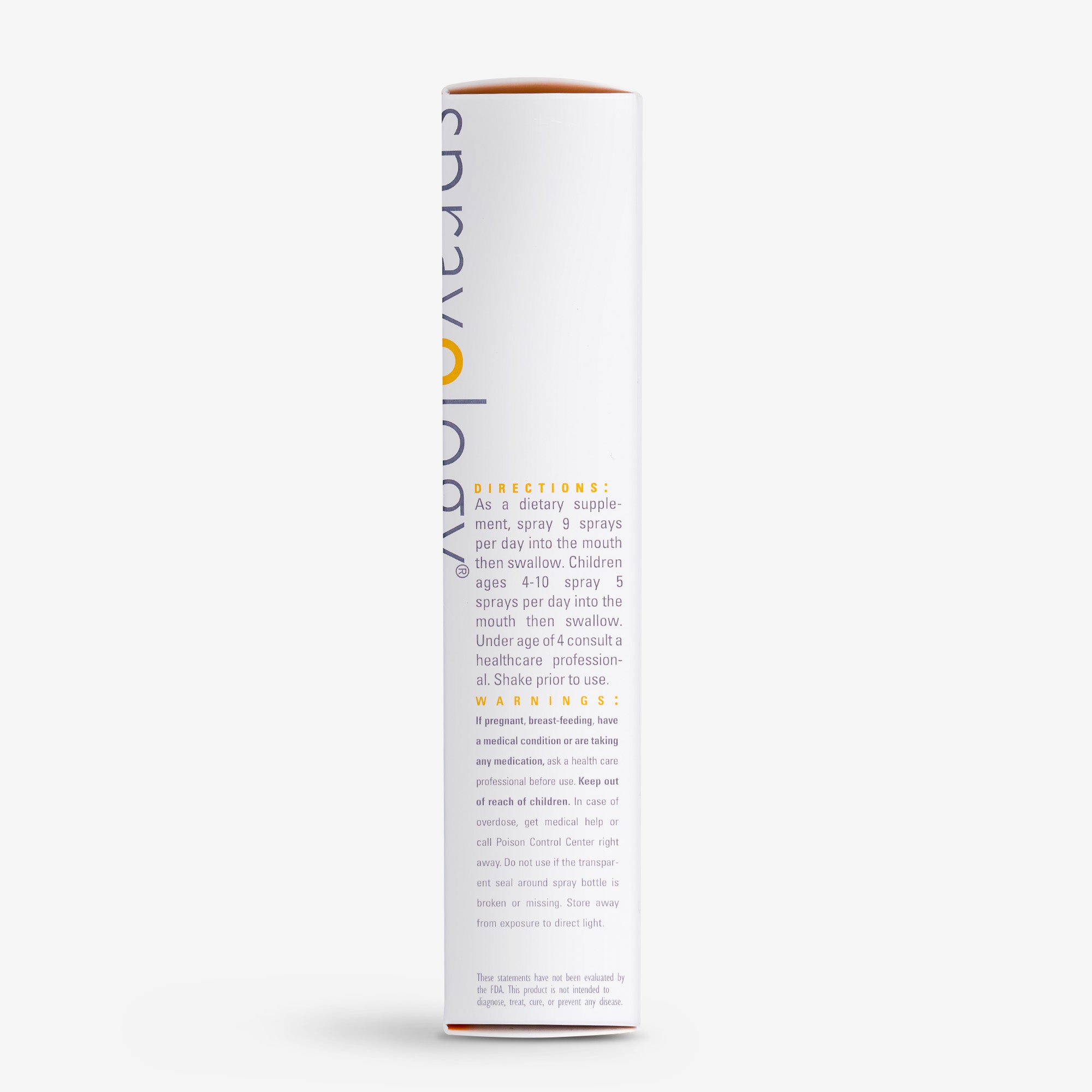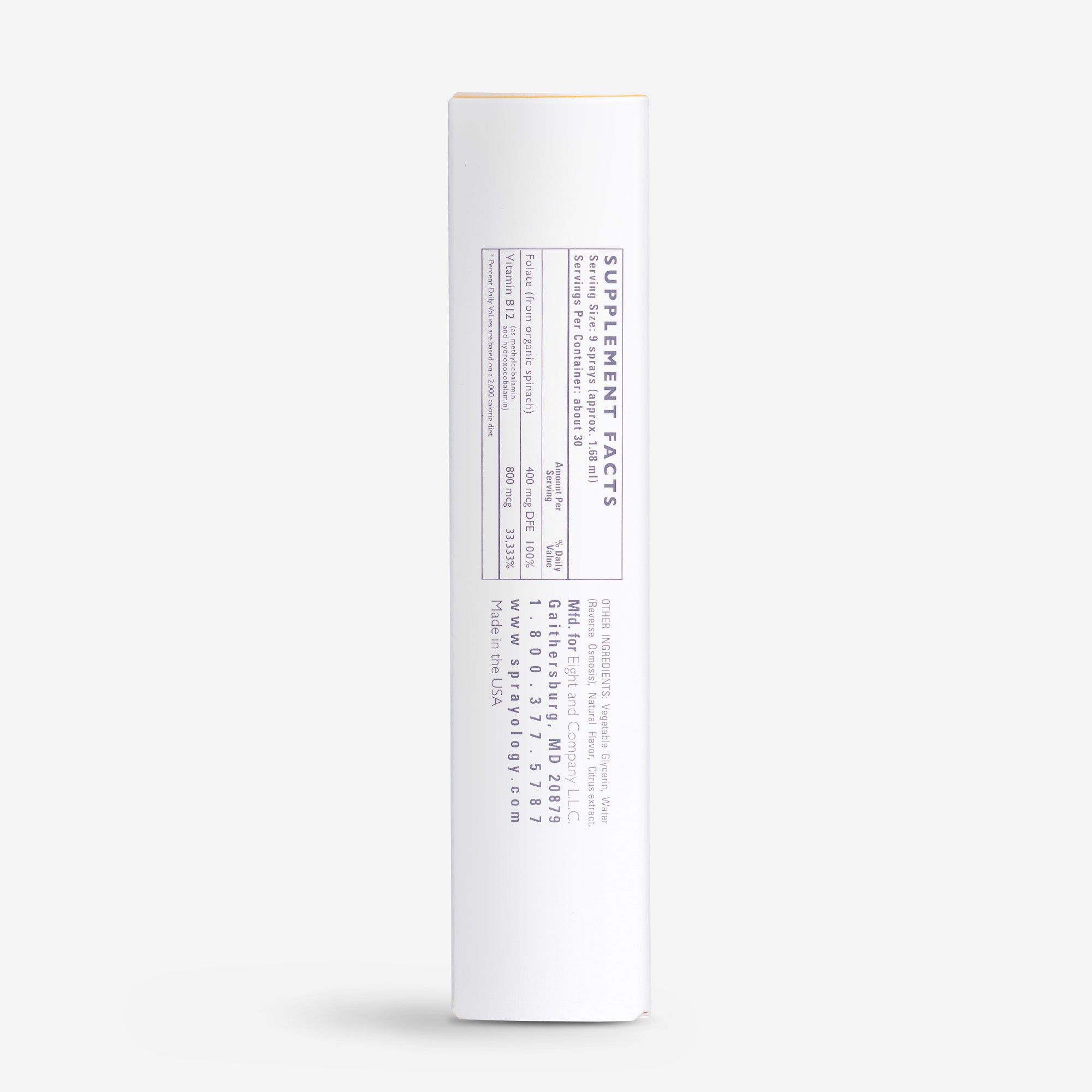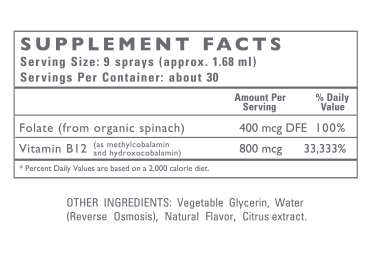 Description
Ingredients
Directions
This NEW Formula combines Vegan B-12 + Folate. The nutrients in this formula have been shown to be beneficial for:
Low energy
Pregnant women and those planning on getting pregnant

Converting carbohydrates into energy (metabolism)
Synthesizing and maintain the genetic building blocks of the body
Keeping blood and nerve cells healthy

Recommended for: Ages 4 and up. Especially important for people who eat very little red meat, vegans, vegetarians, people who consume alcohol regularly, people with high stress level lives, people who take PPI medications, people who have had gastric bypass surgery and women planning on becoming pregnant.

This advanced formula uses the methylcobalamin form of B-12 (which overtime can convert to the hydroxycobalamin form of B-12) and Folate derived from organic spinach.
Active Ingredients:
Supplement Facts

Adults and Children Over 4

Per Serving Size of 10 Sprays per day

% US RDA

Folate (from Organic Spinach)

400 mcg DFE

100%
B-12 (as Methylcobalamin and Hydroxocobalamin)

800 mcg
33,333%
Other Ingredients: Vegetable glycerine, Water (Reverse Osmosis), Natural flavors, Citric acid
DIRECTIONS
Adults and children over age 10: 9 sprays per day into the mouth, preferable under the tongue prior to swallowing. (5 sprays in the morning and 4 sprays in the afternoon best for sustained energy).
B vitamins often increase energy so do not take in the evening prior to bed.
Children ages 4-10: 5 sprays a day into the mouth, preferable under the tongue prior to swallowing.
Shake prior to use. Crisp Green Apple Flavor

Under the age of 4 Please consult your doctor to determine the right dose for your child.
Pregnant or lactating women often require more nutrients, please contact your doctor to determine how many sprays to take per day to meet your daily needs.
If Pregnant or nursing a baby, consult a health care professional before using. Keep out of the reach of children. Do not use if transparent seal around the spray bottle is broken or missing.
TESTIMONIALS
I have severe ulcerative colitis and have troubles absorbing medications so your sprays help me very much. I use the B12 and the Hair and Nail Tonic as my infusions cause hair loss. I'm 33, I don't need to lose my hair yet. :) Thank you!!! Carrie M.
"I am very happy with the Sprayology product. I have had 7 operations and 70 percent of my intestines removed. I spent 20 months in the hospital and was told that I receive no nutritional value from food. Doctors told me that sublingual absorption (in the mouth, under the tongue) was the only way to receive nutrients. Since using Sprayology my blood tests all show improvement. I take the vitamins, Daily Multi, B12 and C +Z" Cynthia S.
I purchased the B12 and the one that helps you sleep at the SPA Conference in Fort Lauderdale last Sunday. Your product is amazing. I have not slept this well in about 5 years. We will definitely be introducing this product to our clients. Thank you.V. Rose
Why spray?
Sprayology has been helping people feel and look better, naturally, for over 20 years. We make it easy to incorporate natural products into your daily routine–just spray in your mouth and go!
Oral sprays are 3x more absorbent than pills, giving you more effective results faster without the upset stomach!
All our products are manufactured and tested in the U.S, and backed by our guarantee.
Fast shipping
Sprayology takes pride in providing excellent service. We aim to ship all orders placed Sunday-Thursday within 24 hours.
Order tracking
If after 3 weeks of regular use you do not experience the formula benefits as described on the package, please contact us.
Get in touch
We are here for you! We are located in MD, so EST. By phone 240-224-7866 or info@ sprayology.com.