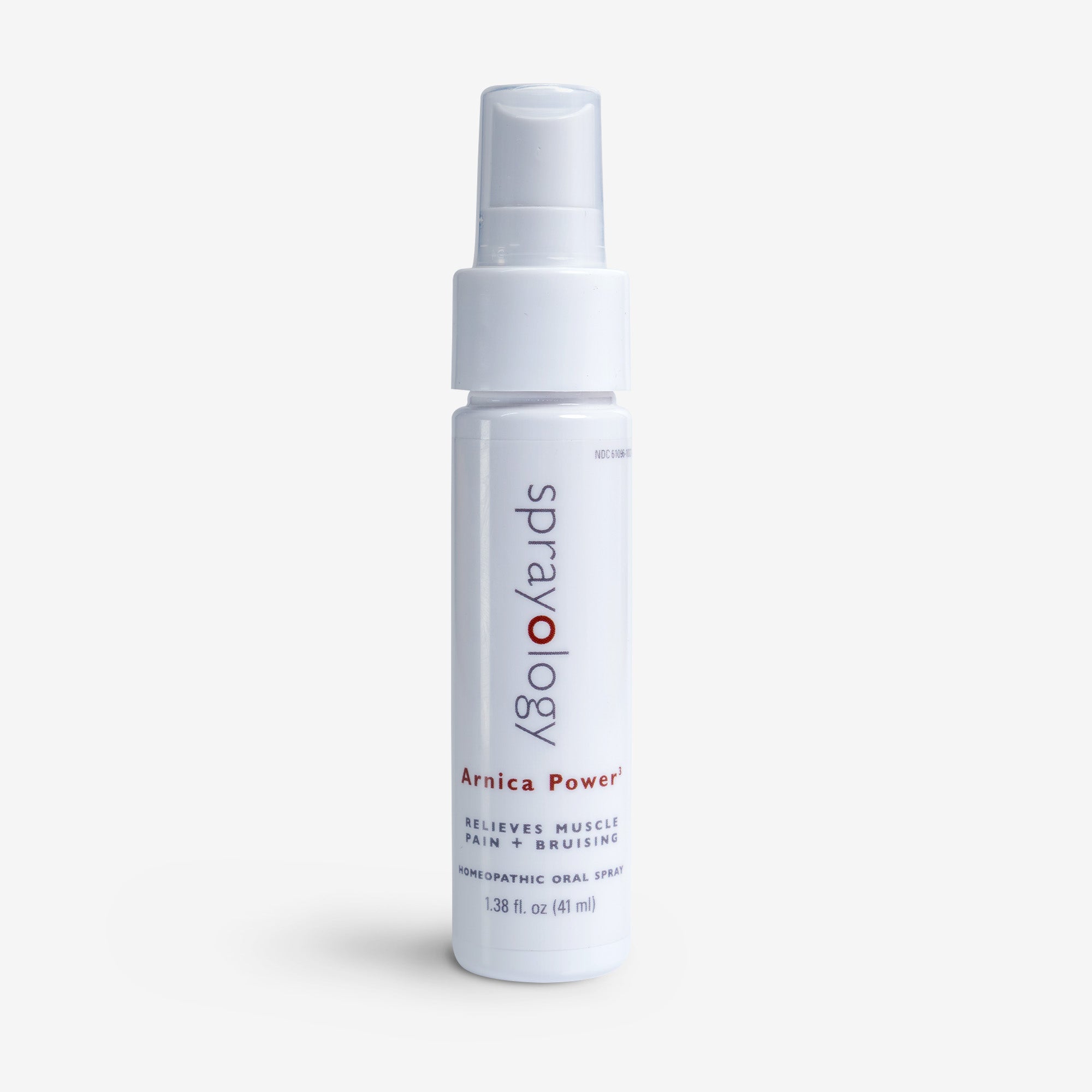 Description
Ingredients
Directions
Temporarily relieves symptoms associated with overexertion or trauma including:
muscle aches
stiffness
swelling from injuries
bruising
Recommended for: adults and children over 12 who want pain relief naturally.
Active Ingredients: Arnica Montana 3x, 4x, 6x.
Inactive Ingredients: Non-GMO glycerin, Organic Alcohol 20% v/v, Purified Water. 
NDC # 61096-1032-1
DIRECTIONS
Adults and children over 12: 2 sprays under the tongue three times per day. For severe symptoms, dosage may be taken up to six times per day. Dose may additionally be sprayed on site of pain or injury if skin is not open, broken or scratched. For best results take first dose as soon as possible after injury or overexertion.
Under the age of 12: Consult a doctor prior to use.
WARNINGS
If symptoms persist or worsen consult your doctor or healthcare professional.
If pregnant or breast-feeding, ask a health professional before

 

use

.
Keep out of reach of children.
TESTIMONIALS
"I started using it regularly Saturday and Sunday I did a 10 mile run. I felt great afterwards and wasn't sore like I normally would have been. This is going to be great for marathon training!" - Carrie M.
"I have had a nasty heel spur that has been with me a while. I used it at the beginning of my shift Thursday night and at the end It felt better immediately. Thanks, I want the industrial size!" - Ellen C.
"I tried this internally today (2 sprays) and I had great results. I have chronic back pain and have had a pinched nerve in my neck that has been hurting so bad I am literally nauseous. After the first two sprays I felt my aches definitely decrease, and after another 2 sprays a few hours later I was close to being pain free. I wish they made a size large enough to bathe in!" - Sharon C.
"HELLO... I had a nagging pain in my side this morning, I sprayed Arnica Power3 and the pain was gone in a matter of minutes." Happy Happy Lo! - Lois M. 
"This stuff is a miracle worker! My lower back was completely out after starting a boot camp workout.  I decided to use the Arnica Power for acute symptoms by spraying it a total of 6 times intermittently during the day.  By the end of that day my back was almost 100% better.  The stiffness was completely gone. That was 2 weeks ago and my back is still doing great as I continue my boot camp workout, spinning and yoga with no problem at all.  I will continue to use Arnica Power daily for maintenance.  I have told everyone I know about it and hopefully they will order it as well. Thank you for making such a truly effective product." - Mary
Why spray?
Sprayology has been helping people feel and look better, naturally, for over 20 years. We make it easy to incorporate natural products into your daily routine–just spray in your mouth and go!
Oral sprays are 3x more absorbent than pills, giving you more effective results faster without the upset stomach!
All our products are manufactured and tested in the U.S, and backed by our guarantee.
Fast shipping
Sprayology takes pride in providing excellent service. We aim to ship all orders placed Sunday-Thursday within 24 hours.
Order tracking
If after 3 weeks of regular use you do not experience the formula benefits as described on the package, please contact us.
Get in touch
We are here for you! We are located in MD, so EST. By phone 240-224-7866 or info@ sprayology.com.