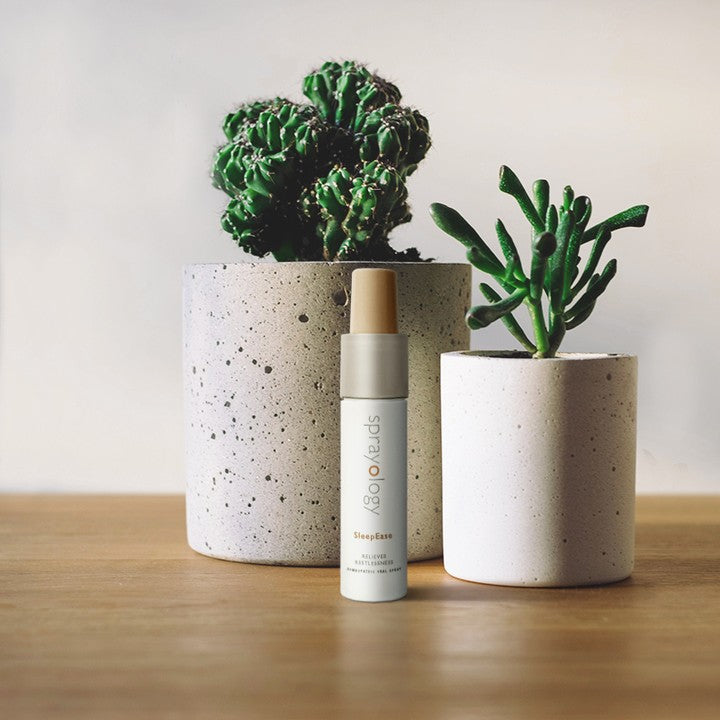 Description
Ingredients
Directions
Temporarily relieves the common symptoms of insomnia including:
wakefulness
restlessness
emotional stress and anxiety
caffeine sensitivity
Recommended for: those who want a natural option for better sleep with no morning grogginess.
Active Ingredients: Aquilegia 4X, Avena 4X, Chamomillav4X, Coffea cruda 200C, Cypripedium 4X, Humulus 4X, Kali phos 12X, Passiflora 4X, Valeriana 4X, Zinc met 12X.
Inactive Ingredients:  Non-GMO glycerin, Organic Alcohol 20% v/v, Purified Water.  
NDC # 61096-2001-1
DIRECTIONS
Adults and children over 12: 2 sprays under the tongue at bedtime and again as needed if sleep is interrupted.
Under the age of 12: consult a health care professional.
If Pregnant or nursing a baby, consult a health care professional before using. Keep out of the reach of children. Do not use if transparent seal around the spray bottle is broken or missing.
TESTIMONIALS
"Sprayology's SleepEase is a wonderful product to help you fall asleep and get a good night's rest. The added bonus is no side effects. It's safe effective, and natural to use every night. I love this product." -Ann R
"At Seasons, our goal is balance. To bring the body into a state of balance, a state of homeostasis, we are pleased to offer homeopathic resources, the most natural approach possible. 
Homeopathy, a trusted form of medicine which preceded osteopathic medicine, provides natural solutions for our clients. Homeopathy gives us, at Seasons, the ability to work with the body not against the body. Working with the body allows us to limit side effects and maximize benefits. Sprayology products help us to achieve a customizable balance for all of our clients in the safest way possible. 
We have been offering Sprayology products for several years now, many in combination with our spa services. Customer favorites include Stress Relief, SleepEase, Cold & Flu Relief, and ImmunoBooster."  -Dr. Nathan Goodyear, Seasons Wellness Clinic - The Spa
"I order Sleepease regularly because it helps me to get to sleep faster and sleep sounder." -Frona B.
"I started using SleepEase about a year ago and am very happy that I did. It usually takes me a long time to get to sleep because I inevitably have a lot on my mind but SleepEase has allowed me to get to sleep in a reasonable amount of time (on most nights). Even when I have to get up in the middle of the night I can usually fall back to sleep after spraying SleepEase once. I have a prescription that I no longer need to use because of SleepEase. Today I told one of my sisters about SleepEase and she too will be using it (sleeplessness runs in the family I guess)!!! Thanks so much for developing this. A very satisfied customer..." -Nancy K.
"This spray is AMAZING. I have tried sleep medication - over the counter and it either did not work or it raised my blood pressure. This JUST HELPS ME SLEEP. That's It. I feel great in the morning! I purchased two bottles at Torrey Pines and gave one to a friend. I have told everyone I know as has she! Thank you Thank you!" -Barbara R.
"Since menopause I have had a hard time getting uninterrupted sleep at night due to nightsweats (hotflashes) every 2-3 hours. I still awaken-the difference is that with SleepEase I can resume sleeping. I use the spray 2-3 times every night upon wakening and it never fails. I highly recommend it."
"Absolutely no side effects...a perfect product I am very leary of sleep aids. After our first daughter was born, I had terrible trouble falling back to sleep when she'd wake up in the middle of the night. This product is amazing. I have taken it at 4a to wake up 2 hours later and I've never experienced grogginess or drowsiness. My husband was a skeptic. Now he's a believer too!" -Westwood mom
"I had problems falling asleep. My husband had problems staying asleep. I was given a bottle of this in a gift basket and did not really think it would work and we were pleasantly surprised. This helped both of us get a good night rest...through the night without feeling groggy or drugged in the morning. We have now been users for 6 months." -M. Mangan
"I purchased the B12 and the one that helps you sleep at the SPA Conference in Fort Lauderdale last Sunday. Your product is amazing. I have not slept this well in about 5 years. We will definitely be introducing this product to our clients. Thank you." -V. Rose
"I would like to take this opportunity to tell you that using Sprayology's SleepEase has changed my life. As a pretty regular user of Ambien, for the last 10 years. I was most skeptical about sleepEase. After encouragement from my sister, I decided to give it a "go"! 5 months later - I am a total believer in SleepEase as well as the whole Sprayology line. It is a great product and it is so wonderful to not have to worry about the side effects nor becoming dependent on a sleeping pill!" -N. Yardley
"Sleep Ease–an amazing product. My life is especially hectic with two small children and a fairly demanding job, so sleep is essential! In the past few weeks, I have had such terrible restlessness at night. As soon as my head hit the pillow, my mind would begin to race! Once I began using Sleep Ease, I was falling asleep (and staying asleep) without difficulty. It really works–thank you again for this wonderful product!" -Michele D.
Why spray?
Sprayology has been helping people feel and look better, naturally, for over 20 years. We make it easy to incorporate natural products into your daily routine–just spray in your mouth and go!
Oral sprays are 3x more absorbent than pills, giving you more effective results faster without the upset stomach!
All our products are manufactured and tested in the U.S, and backed by our guarantee.
Fast shipping
Sprayology takes pride in providing excellent service. We aim to ship all orders placed Sunday-Thursday within 24 hours.
Order tracking
If after 3 weeks of regular use you do not experience the formula benefits as described on the package, please contact us.
Get in touch
We are here for you! We are located in MD, so EST. By phone 240-224-7866 or info@ sprayology.com.