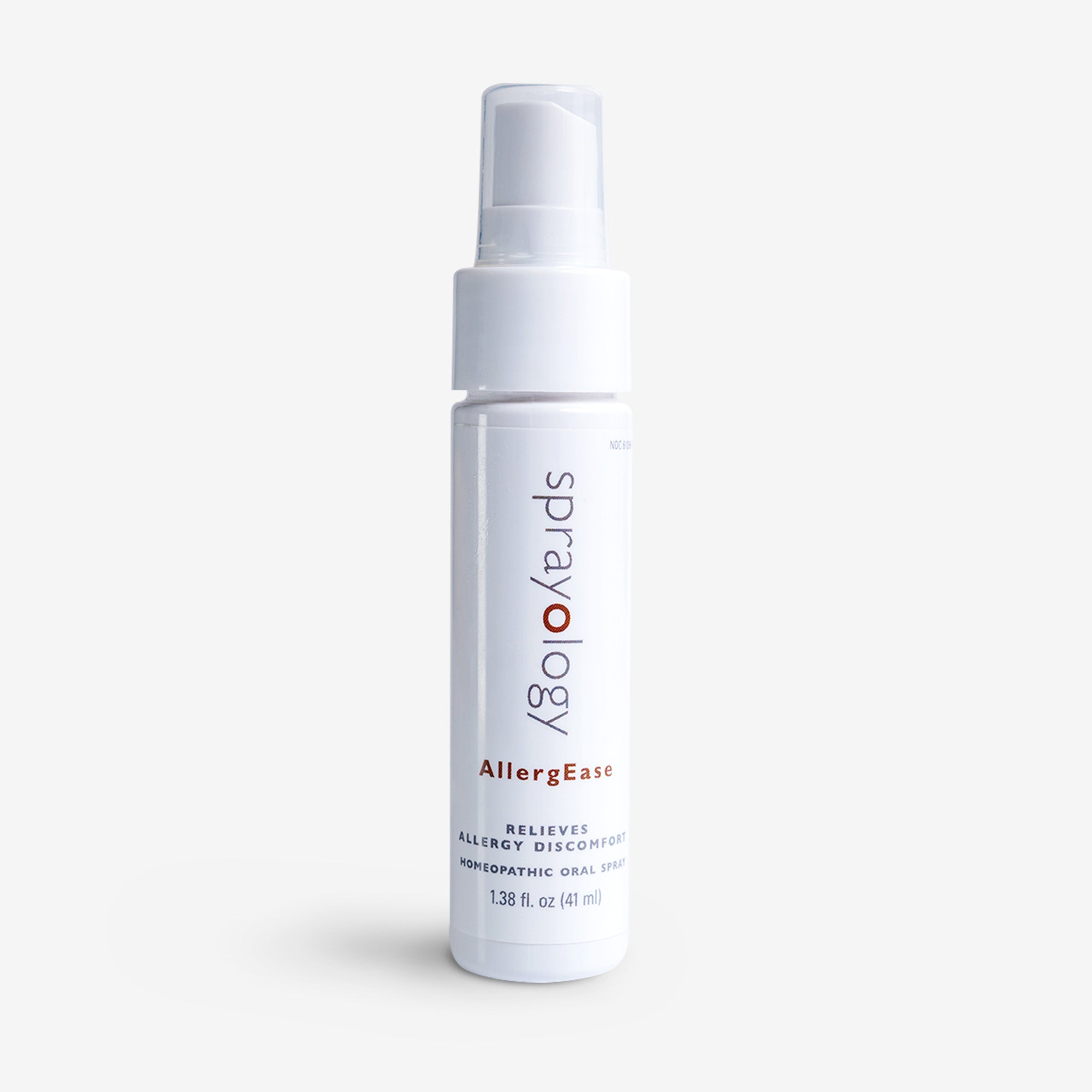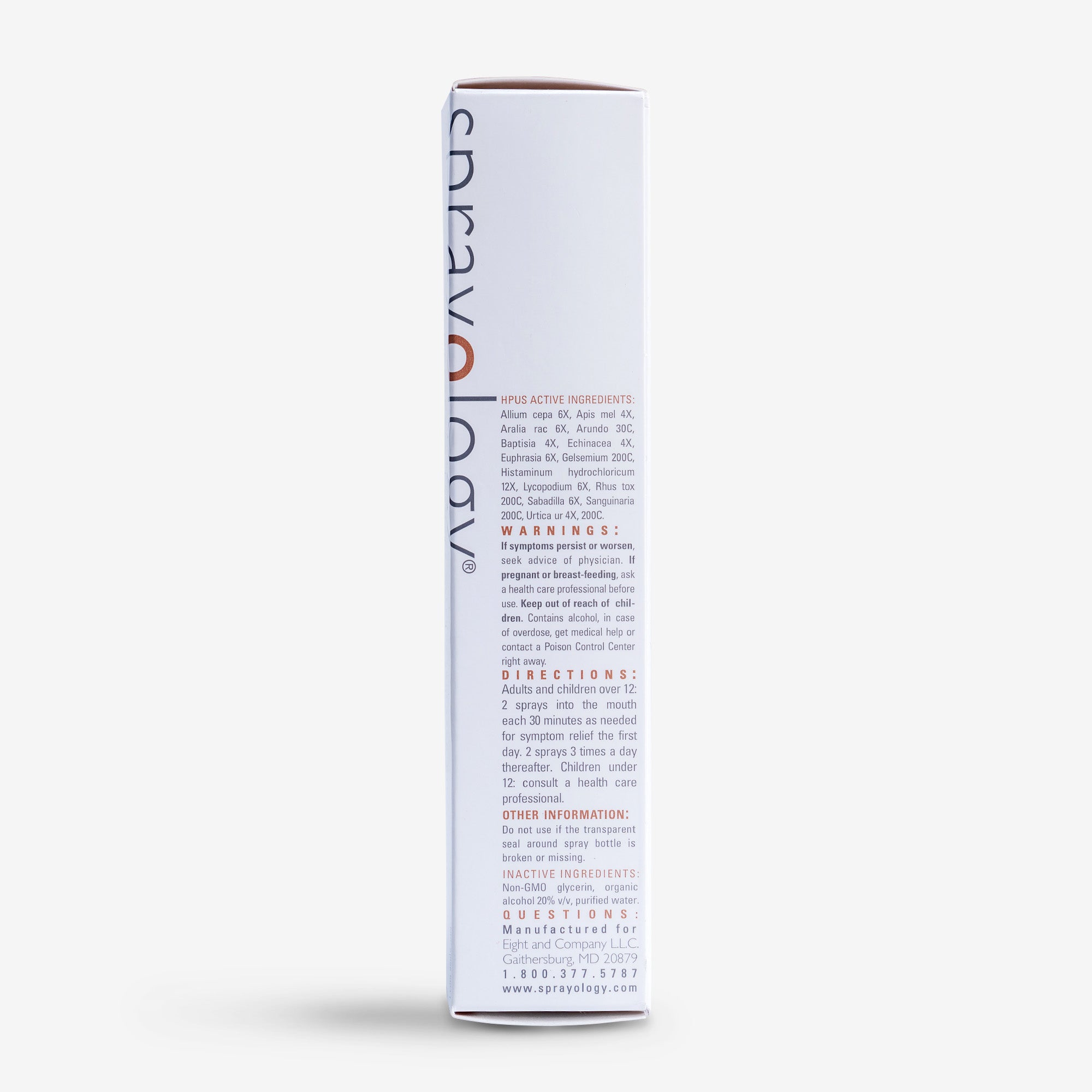 Description
Ingredients
Directions
Temporarily relieves the symptoms of allergies and hay fever including:
runny nose
itchy eyes
rash
headache and sneezing
Recommended for: those who want fast acting, holistic relief from allergy-related symptoms and discomfort.


Active Ingredients: Allium cepa 6X, Apis mel 4X, Aralia rac 6X, Arundo 30C, Baptisia 4X, Echinacea 4X, Euphrasia 6X, Gelsemium 200C, Histaminum hydrochloricum 12X, Lycopodium 6X, Rhus tox 200C, Sabadilla 6X, Sanguinaria 200C, Urtica ur 4X, 200C.
Inactive Ingredients: Non-GMO glycerin, Organic Alcohol 20% v/v, Purified Water.
NDC # 60196-1003-1
DIRECTIONS
Adults and children over 12: 2 sprays under the tongue each 30 minutes as needed for symptom relief the first day, 2 sprays 3 times a day thereafter.  
Under the age of 12: consult a health care professional.
Note: it is safe to use as needed for symptom relief up to each 30 minutes even after the first day, up to 6 times a day.
If Pregnant or nursing a baby, consult a health care professional before using. Keep out of the reach of children. Do not use if transparent seal around the spray bottle is broken or missing.


TESTIMONIALS
"Within the first week I didn't seen any results, but the second week I noticed I was
Dear Sprayology,

I want to thank Gayle for insisting in spraying my skin's hives with AllergEase during last year's Skin Conference in Fort Lauderdale.

I let her spray me just to be nice but with no hopes that a little spray could do anything for me. You see, I have been 3 times already with a prednisone course and nonstop anti-histamines trying to control my itchy and swelling hives all over my body and face. My urticaria is something I've been dealing with for close to thirty years, so as you can imagine, I did not have high, if any, expectations.

That first spray did not do anything for me as I had suspected. I saw Gayle again the following day where she sprayed me again, this time putting some under my tongue as well. I went about my business, without giving it further thought.

A few hours later, driving back to Orlando, I noticed my hives were not itching and they were fading. I could not believe it!

As you can imagine the first thing I did was to call and place an order. After 3 months my allergies totally disappear. No more itching and swelling all over. What a relief!

I am extremely grateful to Gayle for introducing me to Sprayology. -Rosa
"Ever since I can remember, I have had at least one bout a year with allergy-induced bronchitis/pneumonia that required heavy-duty antibiotics to clear up. I can only attribute this year's sick-free history to my use of AllergEase and ImmunoBooster. What a relief!" Chrissie
"I just wanted to take a minute to let you know how much we love your products. I was first exposed to your line through a spa I worked for. It was a really old building and I was apparently very allergic to it and so the director told me to try your Allergease. After the first week I was shocked at how well it worked. I put both of my kids on it (then Two and Four years old). It wasn't long before I realized I wasn't using my asthma inhaler and neither was my son! We've now been on it for 3 years and only use an inhaler maybe twice a year. Needless to say we are big fans! More recently I was diagnosed with Adrenal Fatigue so I have begun using Body Balance. So far so good. It's reduced my symptoms by about 50%. Our results have been so good that my whole family now enjoys your products as do my friends, students and clients. Keep up the great work!" Nicole
"I have a real problem with tickling in my throat which causes unstoppable coughing - especially in the middle of the night.  I now keep AllergEase by my bedside and in 30 seconds after spraying the coughing stops!!  I also keep one in my handbag and one in my car - I don't go anywhere without it -
it's amazing!" L.
Why spray?
Sprayology has been helping people feel and look better, naturally, for over 20 years. We make it easy to incorporate natural products into your daily routine–just spray in your mouth and go!
Oral sprays are 3x more absorbent than pills, giving you more effective results faster without the upset stomach!
All our products are manufactured and tested in the U.S, and backed by our guarantee.
Fast shipping
Sprayology takes pride in providing excellent service. We aim to ship all orders placed Sunday-Thursday within 24 hours.
Guarantee
If after 3 weeks of regular use you do not experience the formula benefits as described on the package, please contact us.
Get in touch
We are here for you! We are located in MD, so EST. By phone 240-224-7866 or info@ sprayology.com.